Discover the exquisite world of Indian wedding jewellery, where tradition meets opulence in a mesmerizing fusion of art and culture.
Introduction:
Indian weddings are known for their grandeur, and at the heart of this opulence lies the captivating world of Indian wedding jewellery. Steeped in rich traditions and adorned with exquisite craftsmanship, these adornments play a significant role in the celebration. From the elaborate necklaces to intricate bangles, each piece tells a story of heritage and love.
In this blog, we delve into the mesmerizing realm of Indian wedding jewellery, exploring its history, symbolism, types, and the enduring allure that has captured the imagination of brides and admirers worldwide.
Historical Significance:
Indian wedding jewellery has a deep-rooted history that dates back centuries. Its origins can be traced to ancient civilizations like the Indus Valley, where jewellery was an integral part of the culture. Over time, various dynasties and empires have influenced the designs and styles, incorporating their distinct artistic flair. From the elaborate gold jewellery of the Mughals to the intricate temple jewellery of the South, each region has contributed to the diverse tapestry of Indian bridal adornments.
Symbolism and Rituals:
Indian wedding jewellery carries profound symbolism and is associated with numerous rituals.
The 'Mangalsutra' holds immense importance as a symbol of marital bliss and is worn by married women.
The 'Maang Tikka' adorns the bride's forehead, symbolizing auspiciousness and wisdom.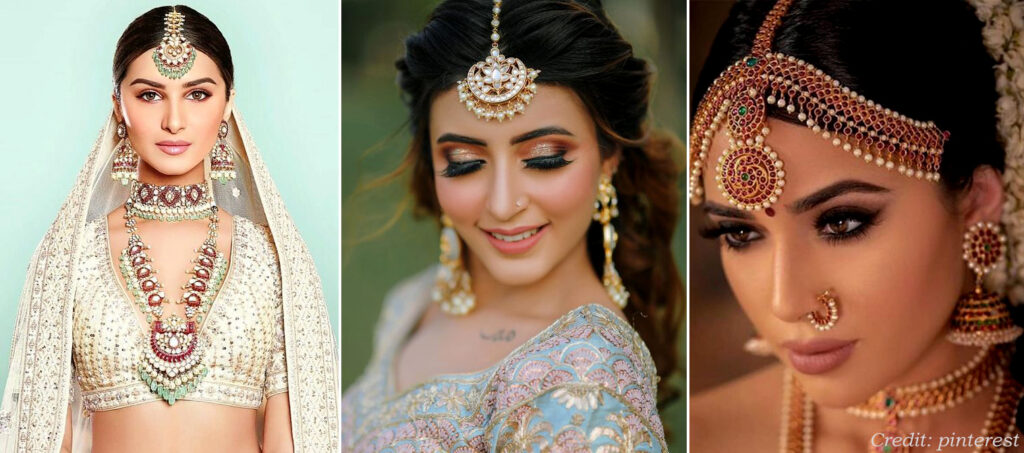 The 'Nath' (nose ring) is a symbol of fertility and beauty. Each piece serves as a visual representation of cultural beliefs and serves to enhance the bride's beauty while warding off evil spirits.
The exchange of rings during the wedding ceremony symbolizes eternal love and commitment.
Types of Indian Wedding Jewellery:
Indian wedding jewellery encompasses a wide array of styles and designs, reflecting the diversity of the country.
The 'Rani Haar,' a regal necklace that cascades down the chest, exudes elegance and grandeur.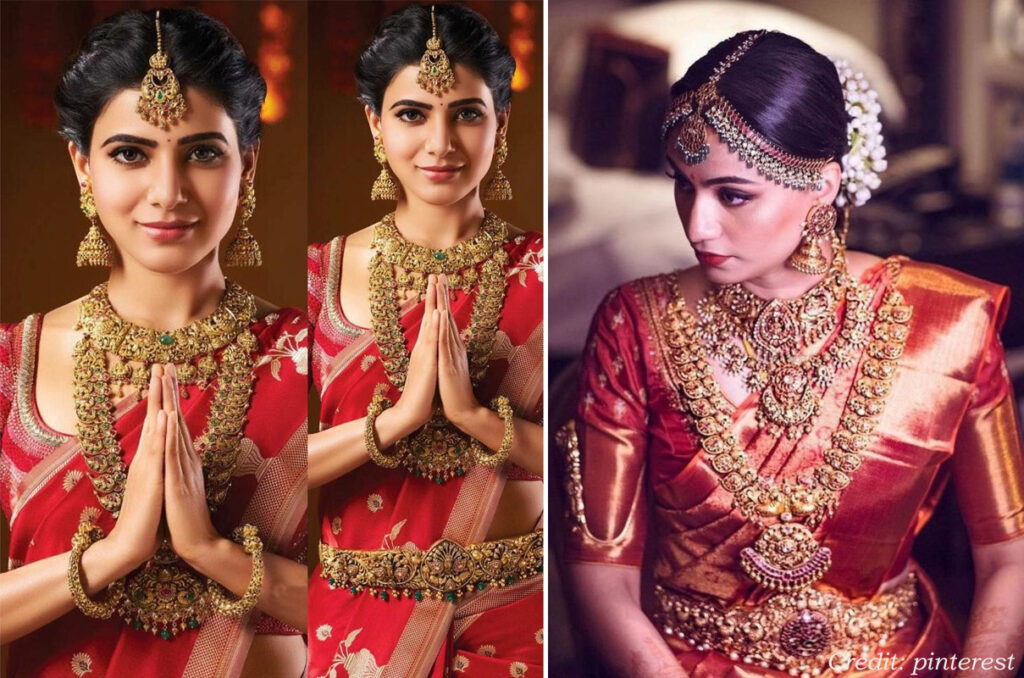 The 'Choker' is a close-fitting necklace that enhances the bride's neckline and complements traditional attire.
'Bangles' are essential adornments, often made of gold or glass, and signify marital status.
'Jhumkas' are intricately designed earrings that sway gracefully, adding a touch of glamour to the bride's ensemble.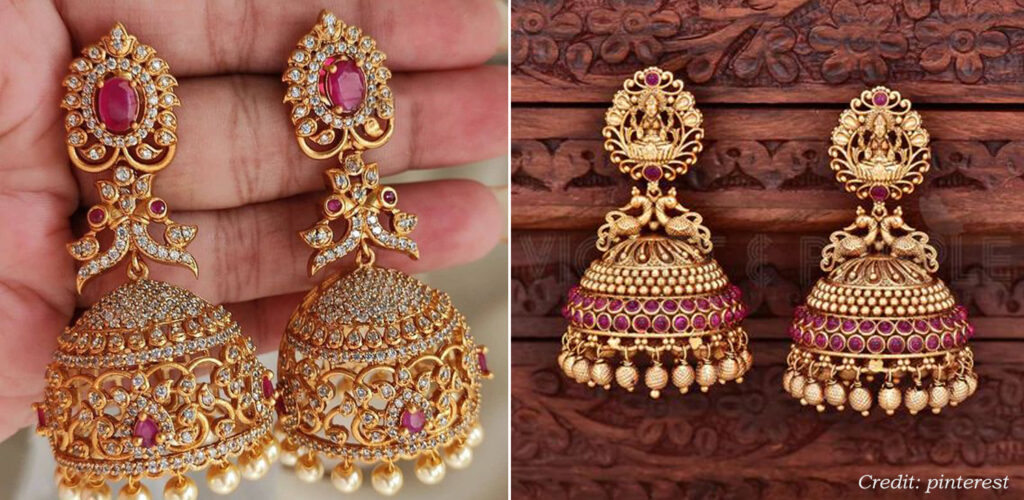 Other notable pieces include the 'Bajuband' (armlet)
'Kamarband' (waist belt)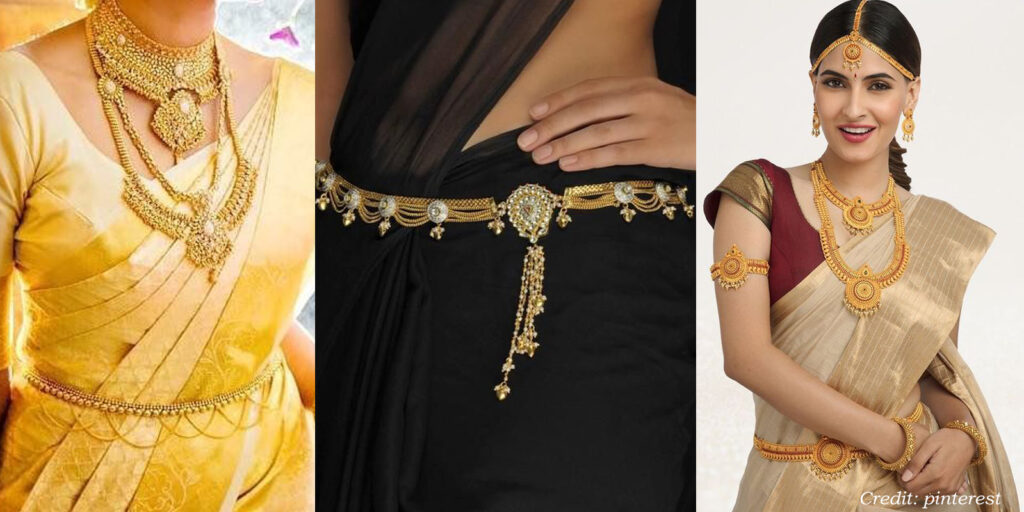 'Payal' (anklets), all of which contribute to the bride's resplendent appearance.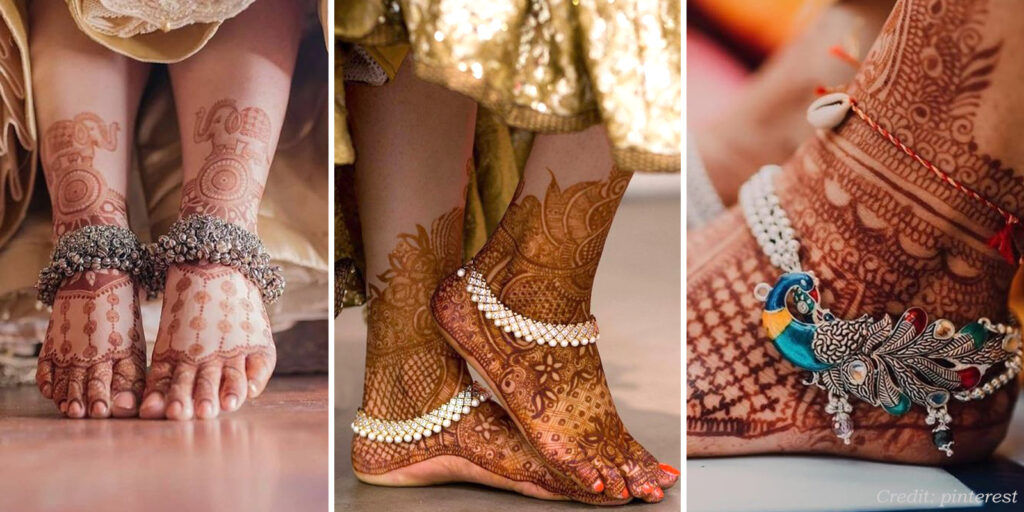 Craftsmanship and Materials:
Indian wedding jewellery is renowned for its exquisite craftsmanship and attention to detail. Skilled artisans meticulously create each piece, incorporating techniques such as filigree, meenakari, kundan, and polki work. Gold, often considered the epitome of wealth and prosperity, remains the preferred metal, but silver, platinum, and white gold are also used. Precious gemstones like diamonds, rubies, emeralds, and sapphires add vibrancy and brilliance to the jewellery. Intricate enamel work and the use of colorful glass beads are also prominent in certain regional styles.
Contemporary Trends:
While traditional designs continue to be treasured, contemporary trends have also made their mark on Indian wedding jewellery. Fusion designs that blend traditional and modern elements have gained popularity, appealing to brides who seek a unique expression of their style. Lightweight jewellery, inspired by international fashion trends, has emerged as a practical choice for today's brides. Moreover, customizable pieces, allowing brides to personalize their jewellery, have become increasingly sought after.
Conclusion:
Indian wedding jewellery is a testament to the country's rich cultural heritage and artistic finesse. Its allure lies not only in its dazzling beauty but also in the stories it carries and the traditions it upholds. From ancient times to the present day, these magnificent adornments continue to captivate brides and admirers alike. Whether it's the resplendent gold, the intricate craftsmanship, or the deep-rooted symbolism, Indian wedding jewellery remains an integral part of the celebration, embodying the essence of love, tradition, and timeless beauty.