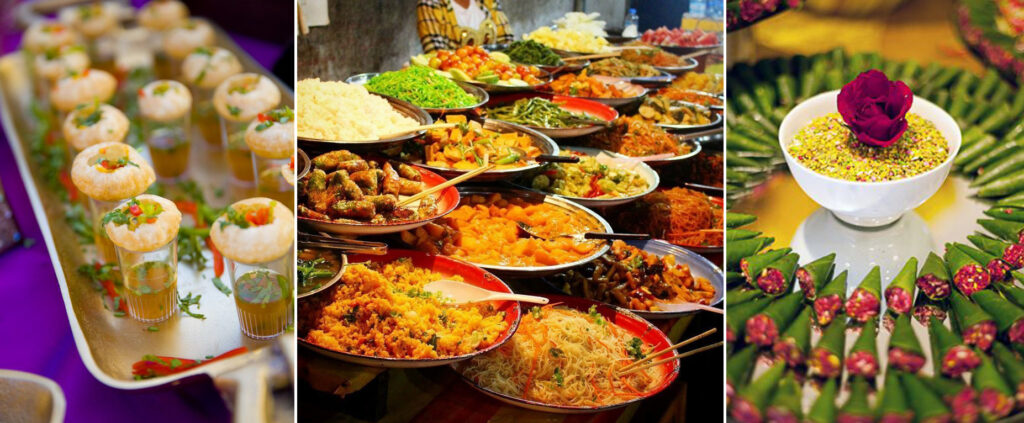 Indian wedding cuisine is the most important part of an Indian wedding. It brings people together, no matter what culture they're from. It's not just about filling our bellies, but also about showing love, being welcoming, and having plenty for everyone. Food has a special meaning, and it helps make weddings memorable and enjoyable for everyone involved.
Indian weddings are famous for being lavish and extravagant, with lots of delicious food that will make your taste buds very happy. The amazing variety and flavours of Indian cuisine are at their best during these joyful celebrations. In this blog, we want to take you on a delicious adventure through the mouthwatering world of Indian wedding cuisine, where traditional recipes blend with modern trends to create a fantastic food experience.

The Essence of Indian Wedding Cuisine:
Indian wedding cuisine is a harmonious blend of flavours, spices, and regional specialties that represent the cultural heritage of diverse Indian communities. From the savoury delights of the North to the fiery spices of the South, each region contributes its unique culinary traditions to the wedding feast. Whether it's the elaborate vegetarian spreads of a Gujarati wedding or the aromatic biryanis of a Hyderabadi affair, Indian wedding cuisine never fails to impress.

The Diverse Regional Delicacies: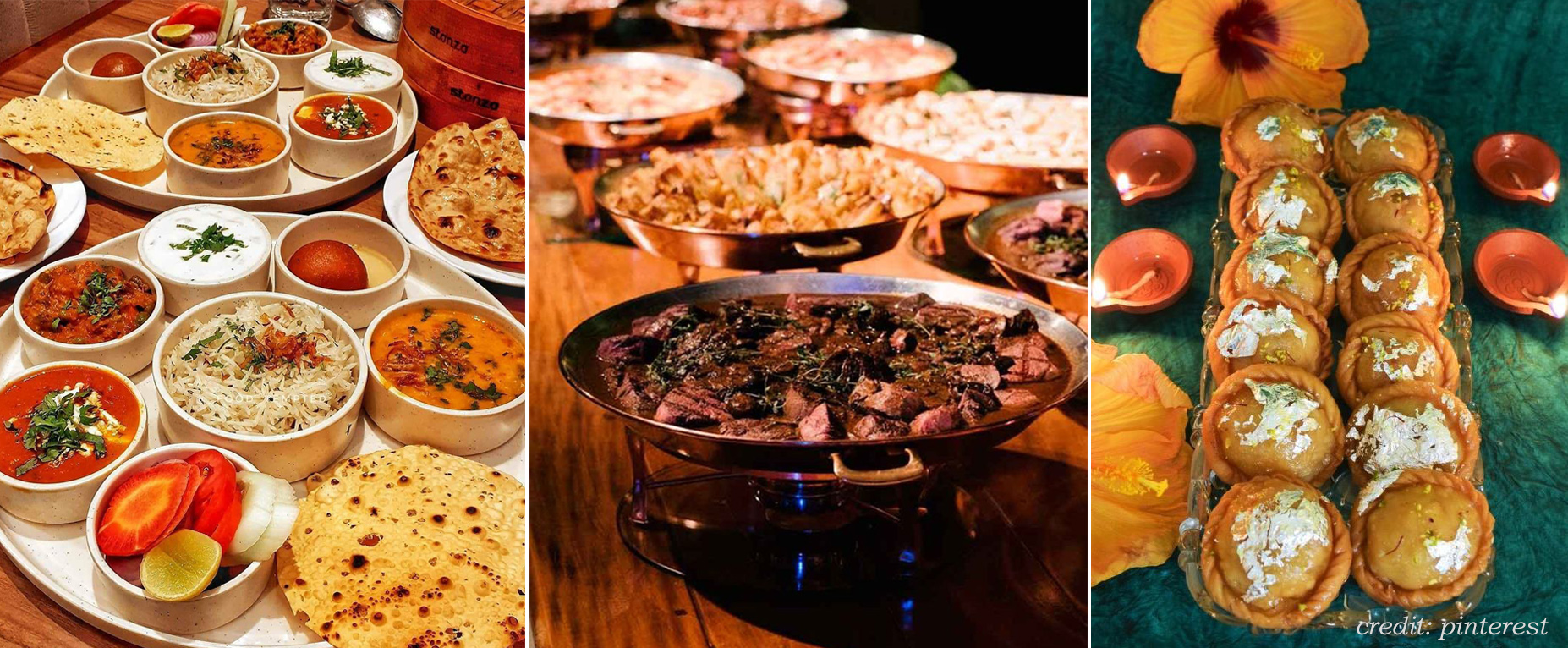 a. North Indian Cuisine: North Indian weddings are famous for their rich and creamy dishes like butter chicken, dal makhani, and paneer tikka. The lavish spreads often feature a plethora of vegetarian and non-vegetarian options, including kebabs, biryanis, and delectable sweets like gulab jamun and jalebi.

Traditional North Indian Menu:
Appetizers: Paneer Tikka, Chicken Tikka, Seekh Kebabs, Samosas
Main Course: Butter Chicken, Rogan Josh, Dal Makhani, Vegetable Biryani, Naan
Accompaniments: Raita, Papad, Mixed Pickles
Desserts: Gulab Jamun, Rasgulla, Kheer, Jalebi


b. South Indian Cuisine: South Indian weddings are a celebration of flavours and spices. Traditional dishes like dosas, idlis, and vadas take centre stage, accompanied by an assortment of chutneys, sambars, and rasams. The aroma of coconut-infused curries and the tanginess of tamarind-based dishes add a distinct character to the wedding feast.
South Indian Feast:
Appetizers: Medu Vada, Masala Dosa, Vegetable Cutlets
Main Course: Vegetable Pulao, Chicken Chettinad, Fish Curry, Sambar, Coconut Chutney
Accompaniments: Rasam, Tomato Chutney, Appalam, Curd Rice
Desserts: Payasam, Mysore Pak, Badam Halwa, Coconut Barfi


c. East Indian Cuisine: Bengali weddings showcase the culinary artistry of the East, where seafood takes the spotlight. From the famous macher jhol (fish curry) to the delectable sweets like rasgulla and sandesh, Bengali weddings offer a symphony of flavours that reflect the region's love for fish and sweets.
Exquisite Bengali Spread: Appetizers:
Fish Fry, Vegetable Chop, Shingara (Samosa)
Main Course: Bhetki Paturi, Chingri Malai Curry, Kosha Mangsho (Mutton Curry), Aloo Posto (Potatoes in Poppy Seed Paste), Luchi (Bengali Puri)
Accompaniments: Shorshe Bata (Mustard Sauce), Tomato Chutney, Radhaballavi, Steamed Rice
Desserts: Rasgulla, Sandesh, Mishti Doi (Sweet Yogurt), Sondesh


d. West Indian Cuisine: The vibrant colours and spicy flavours of the West find their way into wedding celebrations. Maharashtrian weddings feature popular dishes like puran poli, batata vada, and vada pav. The tangy and sweet flavours of Gujarati cuisine shine through with dishes like dhokla, khandvi, and the irresistible Gujarati thali.
Gujarati Thali:
Appetizers: Khandvi, Dhokla, Patra (Steamed Colocasia Rolls)
Main Course: Undhiyu, Dal Dhokli, Kadhi, Bajra Roti, Gujarati Khichdi
Accompaniments: Kachumber Salad, Gujarati Kadhi, Pickles, Papad
Desserts: Mohanthal, Ghevar, Basundi, Shrikhand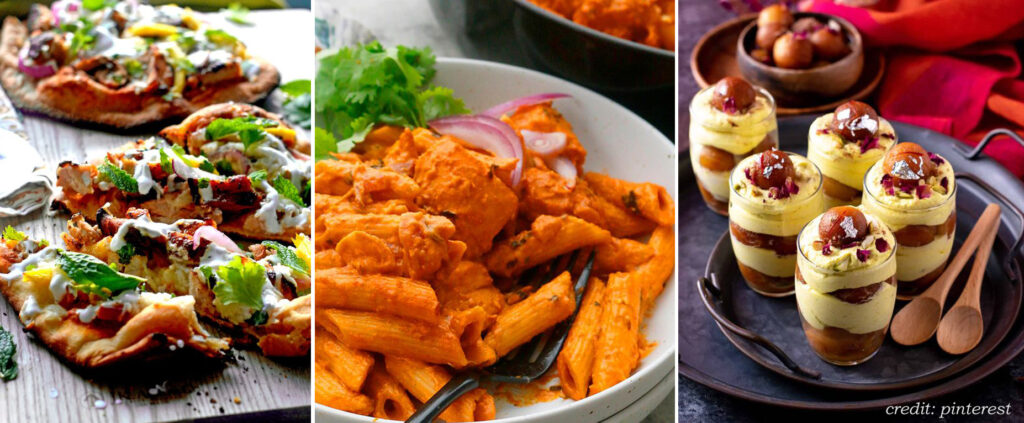 Fusion Fare and Modern Trends: While traditional dishes hold their own charm, Indian wedding cuisine has also evolved with time. Many couples now opt for fusion fare, blending traditional recipes with international flavours. It is not uncommon to find dishes like butter chicken pizza, paneer tikka tacos, or Indo-Chinese fusion delights, offering a unique twist to the wedding feast.
Fusion Fare:
Appetizers: Tandoori Chicken Pizza, Paneer Tikka Tacos, Pani Puri Shots
Main Course: Butter Chicken Pasta, Paneer Biryani, Thai Green Curry with Indian Spices
Accompaniments: Naan Breadsticks, Mint Chutney Hummus, Saffron-infused Risotto
Desserts: Cardamom-infused Creme Brulee, Gulab Jamun, Cheesecake, Pistachio Kulfi Sundae


The Sweet Indulgence:
No Indian wedding feast is complete without an array of mouthwatering sweets. From the famous ladoos and barfis to the delicate sandesh and pedas, the dessert table is a sight to behold. Traditional sweets like gulab jamun, jalebi, and rasgulla share the spotlight with modern interpretations like flavored macarons, fusion mithai, and artisanal chocolates.
The Culinary Extravaganza:
Indian weddings are a celebration of love, unity, and culinary excellence. The grandeur of the celebrations is amplified by the sumptuous feast that brings families and friends together. The attention to detail, the diversity of flavours, and the sheer abundance of food make Indian wedding cuisine a feast for both the eyes and the taste buds.
It is a testament to the rich culinary heritage of the country. From traditional regional delicacies to modern fusion fare, it caters to diverse tastes and preferences. The grand feast is not only a gastronomic delight but also a reflection of the joy and warmth that surround Indian weddings. So, the next time you attend an Indian wedding, savor the flavors, relish the variety, and immerse yourself in the cultural tapestry of Indian wedding cuisine.Remember, these menu ideas are just a glimpse of the vast possibilities available in Indian wedding cuisine. You can mix and match dishes from different regions or create a fusion menu that reflects your unique taste and preferences. The key is to celebrate the diversity and richness of Indian flavors while curating a memorable culinary experience for your guests.
bon appetit!