Introduction:
Indian bridal fashion trends are mesmerizing blend of tradition and contemporary elegance, where vibrant colours, intricate embellishments, and rich fabrics intertwine to create breath taking ensembles.
With each passing season, Indian bridal fashion trends evolve, showcasing the perfect amalgamation of cultural heritage and modern aesthetics.
In recent years, the world has witnessed a revolution in Indian bridal fashion, as designers explore innovative silhouettes, experimental cuts, and unconventional color palettes. Bridal lehengas, sarees, and anarkalis have undergone a remarkable transformation, embracing new-age sensibilities without compromising on the essence of Indian tradition.
The revival of classic motifs and craftsmanship has breathed new life into bridal fashion, with intricate hand embroidery, zardozi work, and exquisite beadwork adorning the ensembles. Traditional elements such as intricate meenakari work, gota patti, and kundan embellishments are now beautifully fused with modern designs, creating awe-inspiring outfits that reflect the bride's individuality.
Contemporary brides are embracing unconventional hues like pastels, muted tones, and even metallic shades, alongside the timeless reds and golds. Experimentation with unconventional fabrics like organza, tulle, and sheer fabrics has added a touch of ethereal grace to bridal attire, giving it a dream-like quality.
Moreover, bridal accessories have evolved to complement the modern bride's style, with statement jewellery pieces, unique headpieces, and ornate clutches becoming an integral part of the bridal ensemble.
As the world becomes increasingly captivated by the allure of Indian bridal fashion, the trends continue to evolve, blending tradition and modernity in an exquisite dance of style and grace. Indian bridal fashion remains an enchanting canvas for designers and brides alike, where creativity knows no bounds and dreams take shape in the form of resplendent garments.
Step into 2023 with breathtaking style. Discover stunning bridal fashion trends that will make Indian brides shine brighter than ever.
The Regal Red:
Embrace the timeless elegance of a traditional red bridal lehenga embellished with intricate zari work. Complete the look with a statement polki necklace, maang tikka, and a cascading veil.
Pastel Perfection:
Opt for a refreshing twist on bridal fashion with a pastel-hued lehenga in shades like blush pink, mint green, or powder blue. Adorn it with delicate floral embroidery, and accessorize with pearl jewelry for a soft, ethereal look.
Ivory Enchantment:
Choose an ivory saree with intricate silver or gold threadwork for a sophisticated and graceful bridal ensemble. Pair it with a choker necklace, jhumkas, and a sleek updo for a modern yet traditional appeal.
Boho Chic: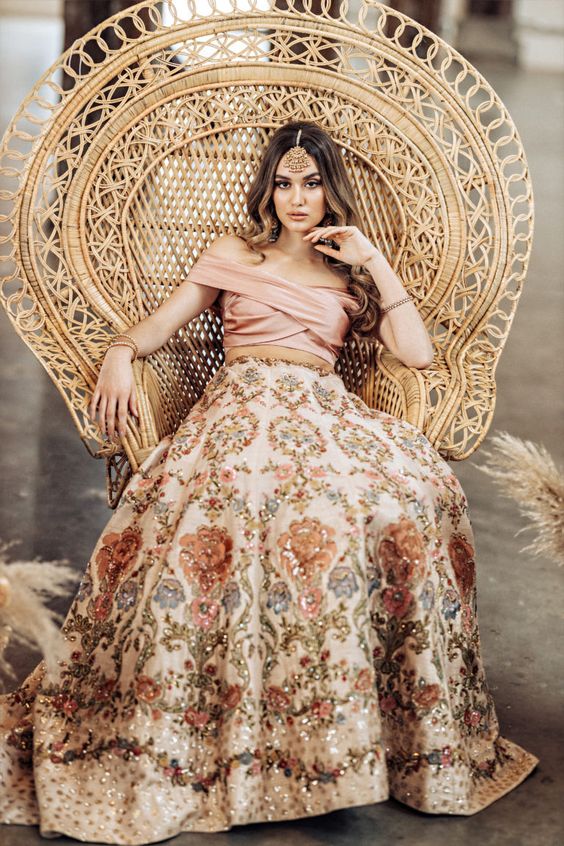 Embrace a bohemian-inspired bridal look with a flowy cape lehenga in vibrant colors like turquoise, mustard yellow, or burnt orange. Add a touch of glamour with intricate mirror work, and style it with oversized statement earrings and a floral crown.
Modern Royalty:
Opt for a contemporary take on royalty with a fusion gown featuring a fitted bodice and a voluminous skirt. Choose a regal shade like deep purple or emerald green, and accessorize with a statement belt and sometimes a tiara.
Floral Fantasy:
Channel the essence of spring with a floral-printed lehenga adorned with 3D floral appliques. Pair it with a delicate matha patti and cascading floral hair accessories for a whimsical and romantic look.
Sheer Delight:
Embrace the trend of sheer fabrics with a sheer net saree or lehenga featuring intricate embroidery or sequin work. Style it with a sleek hair piece, statement earrings for a glamorous yet contemporary appeal.
Traditional Elegance:
Embody timeless elegance with a richly embroidered banarasi silk lehenga in jewel tones like deep maroon, royal blue, or emerald green. Pair it with traditional temple jewelry and a bold red lip for a regal look.
Metallic Magic:
Make a bold statement with a metallic lehenga or saree in shades like gold, silver, or bronze. Opt for traditional patterns or modern motifs, and complete the look with jewellery and a sleek hair style.
Cape Drama:
Add a touch of drama to your bridal outfit with a cape-style lehenga or anarkali adorned with intricate embellishments. Choose jewel tones like ruby red, sapphire blue, or amethyst purple, and accessorize with a maang tikka and statement rings for a glamorous entrance.
These outfit ideas for Indian brides in 2023 showcase a diverse range of styles, colors, and silhouettes, allowing each bride to find her perfect ensemble that reflects her unique personality and sense of style. So Embrace the beauty of tradition and contemporary flair in 2023 to leave a lasting fashion legacy.